How Office Partitions Can Help You Conquer Privacy Problems at Work
Office partitions sub-divide large areas to make the space more versatile and to improve privacy.
What are the benefits of having office partitions installed?
Office partitions are fitted for a number of reasons:
To create private spaces – this can mean:

– Privacy from or to make sound

– Privacy from being seen by others or from visual distractions

– Keeping visible information or conversations private
To create meeting spaces separate from the main office
To control odours around canteens and kitchens
Whether partitions are right for your office will depend on your organisation, the space available and what your desired outcomes are. Office partitions won't work for every organisation so ask your designer, who will find the best fit for your requirements. There are options available for most spaces though; small or unusual-shaped rooms can benefit from movable or folding partitions to ensure the space is as usable and flexible as possible.
What options are available for office partitions?
If you're at the planning stage of an office refit then it's best to engage with workspace specialists like Dale Office Interiors. To give you an idea of the options available, we will take a look at some of the most popular partition materials and styles:
Demountable partitions
When the term 'office partitions' is used it is usually in reference to demountable partitions. These are non-loadbearing walls that can be removed and re-installed should you move offices or simply want to reconfigure the layout of your existing space. A further advantage of this type of partition system is that they are modular and can be constructed on-site very quickly, with minimal mess and disruption for people using the space. Demountable partitions come in a range of materials and styles, including aluminium, timber and glass and can incorporate single or double glazing with integral blinds. The method of construction and materials used can determine the degree of the acoustic attenuation. This should be considered if wall are being built specifically with privacy in mind.
Glazed partitions
Glazing is a great choice for partitions that would otherwise block natural light, as you can enjoy enhanced privacy and a better use of space without making the rest of the office darker.
Glazing adds a stylish look to an office, especially when the partitions are frameless floor-to-ceiling glazing and incorporate company branding. Frameless glazing is installed using silicone or "dry" joints to connect the panes of glass, while slim-line aluminium or timber frames are used to connect the glass to the ceiling, floor and walls.
Double glazed units can be fitted to minimise sound transfer, and tinted glass or vinyl motifs can be used to increase privacy. If your office is an unusual shape or you're looking for a unique aesthetic, then curved glass can help make the best use of the space available.
If space is at a premium, then fitting sliding glass doors will avoid the swing-out made by regular doors encroaching on the surrounding area. You can maximise light and privacy with Switchable LCD privacy glass which, with the flick of a switch, transforms glass from transparent to frosted, and back again. Venetian blinds are also an option for temporarily increasing privacy in a meeting room.
Whatever design you choose to have, the partitions will need to be finished with two rows of frosted dots, squares or solid bands to comply with the Disability Discrimination Act (DDA) and building regulations. For further building regulation compliance, fire-rated partitions are also available, along with fire-rated framing (such as door liners).
In this example from Dale Office Interiors, the pale blue lines represent glass partitions which have been used to create a division between the waiting area and the main office that doesn't completely separate the two areas. Glass partitions have also been used to create a private meeting room within the office.
The glass partitions are represented with a blue line. For this client, glass partitions were used to create zones or distinct spaces (i.e. a meeting room) without compromising the level of natural light and feeling of space and openness in the office.
Finish options
The plasterboard panels, which are the solid elements that make up demountable partitions, can be finished with a wide range of products. Most commonly vinyl wall covering is used, however, write-on or dry-wipe surfaces are becoming increasingly popular in workspaces.
Movable and folding partitions
Movable and folding partitions are the ideal solution to achieve flexible work and meeting spaces. They allow for the size and capacity of a space to be altered to suit the meeting or task on hand, without permanently changing the layout of the entire office. Folding walls are generally constructed from a timber core and can be finished in a wide range of colours. These panels also present opportunities for bespoke branding or messaging much like any other vertical surface. Framed glass panels (fitted with single or double glazing) are another option. Moveable or "operable" walls are normally ceiling-hung and depending on the dimensions, may run in a floor track. When they are in use, the lead panel will generally act as the access door. To make the most of the space available, the doors can be stacked at one end or split in the middle to stack at each end.
In this example from Dale Office Interiors, a large meeting room was easily split into two smaller spaces with a foldable partition. This was done to allow the space to be used for more than one purpose or more than one type of meeting style or size, and therefore the partitions created a flexible, multi-purpose space.
Another option is to install a remote control vertical retractable partition that retracts automatically into the ceiling void. These partitions can only be fitted where the ceiling can fully take the weight of the system. A potential downside of vertically retractable partitions is that there is no access door once the partitions are in place, so they would have to be raised to allow access.
Alternatives to partitions
Cubicles are a traditional way of dividing up an open-plan office; however, the 'cubicle farm' that reached its peak in the 1980s has since become a symbol of dread for many office workers. The goal of the cubicle was to reduce noise and visual distractions in open-plan areas, something that is still relevant today. The options available for creating individual or small workspaces within an open-plan office are, however, now far sleeker and better suited to the needs of modern office workers.
If the goal is to create semi-private spaces, then pods, either for individuals or small groups, are a stylish way to divide up large spaces. High-backed seating is a simple way of creating a semi-private workspace in breakout areas, meeting spaces or even within the main open-plan office. For more privacy, self-contained sound-proof pods create an 'office within an office' and can be handy rooms for private meetings or quiet work.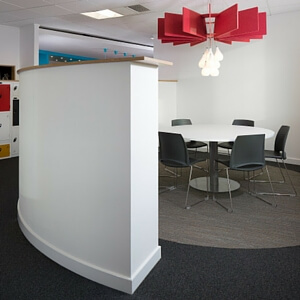 Sound-absorbing screens and wall panels are another option for creating non-permanent, unique and practical private spaces in the office. Dale Office Interiors used suspended acoustic panels to help dissipate the sound in Visualsoft's open plan offices. Colourful 'blades' of Autex Cube ™ from Autex Acoustics were hung above the noisiest areas of the office to help dissipate and absorb the sound, whilst providing a colourful and modern addition to the office aesthetics.
Sound-absorbing screens were used to create quiet areas in Ignition Search's open plan office. Airflake by Abstracta was used to create a separate area for the meeting room and to create a separate kitchen area.
Partitions can help you make the most of the space available in your office. To find out more about how Dale Office Interiors can help with your office design and specification, speak to the team today on 0114 233 1115 or email [email protected].
Feel inspired by the above? Just click on the buttons below to share it:
Want a better workplace?
We're fast becoming the go-to design and fitout company here in the north, helping facilities professionals like you think smart about your organisation's space. Click here to leave your details and we'll contact you.
Let's talk